Measuring for Curtains & Draperies
Determine Rod Width
Center-draw draperies:
Measure the window width (A). If you already own the traverse rod you intend to use, measure the rod return (the measurement from the face of the rod to the wall). If you don't already have a traverse rod, consider the return to be 4 inches for measuring purposes.
To determine width:
Add window width, right and left returns, and a 4 inches for overlap at the center. If you intend to open and close your draperies for privacy and/or light control, the rod should be approximately 15% wider than the window. This will allow the draperies to stackback against the wall and leave space for panels to clear glass when open.
For one-way-draw draperies:
Add rod return for just one side, plus 1 inch for drapery to extend past the rod.Total of rod width, returns, and overlap is your total Rod Width. Example: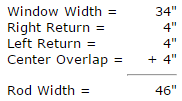 Determine Curtain/Drapery Width
Once you have determined total Rod Width, use the chart below to determine the proper Drapery Width to order.